Partner Insights - Photonics: Karlsruhe Institute of Technology (KIT)
The Karlsruhe Institute of Technology (KIT) is one of the three teaching universities of the Max Planck School of Photonics (MPSP), along with the Friedrich Schiller University Jena, and the Friedrich Alexander University Erlangen-Nuremberg. It is also the only one of the ten German universities of excellence that has national, large-scale research within the Helmholtz Association. Thus, KIT not only creates and imparts knowledge for society and the environment, but it also develops applications for industry.
Carsten Rockstuhl is Professor at the Institute of Theoretical Solid State Physics and Head of Department at the KIT Institute of Nanotechnology and Fellow of the Max Planck School of Photonics. In the following interview, he talks about his career, what is special about the work as a Fellow of the Max Planck School of Photonics, and what distinguishes KIT, founded in 2009, as a central partner of the Max Planck Schools.
Mr. Rockstuhl, you have been a professor and department head at KIT for nine years now. How did your path lead you there?
My interest in the topics of optics and photonics was sparked at the time during my internships, which were an integral part of my studies, in Switzerland and Greece. I then went on to do my PhD in one of those places, Neuchâtel in Switzerland. Eventually, after a research stay in Japan, I returned to Germany, and spent a long time working as a scientist in Jena - first as an assistant and later as a junior professor at the Friedrich Schiller University there. Finally, in 2013, I received the offer to take up the professorship at KIT. Even though there were other career perspectives, I was particularly attracted to KIT because of the great variety of topics that are present there in optics and photonics. In addition to central facilities such as the Karlsruhe School of Optics & Photonics, it is the many opportunities for cooperation not only in physics, but also in mathematics, chemistry, computer science, and engineering that make KIT a fascinating working environment. In addition, working both in a university and in a large national research center opens up many exciting possibilities for collaboration.
Since 2019, you have also been a Fellow of the Max Planck School of Photonics. What excites you about being part of this interdisciplinary and nationwide PhD program?
The very first thing that appealed to me was the opportunity to conduct open research on fascinating topics with excellent PhD candidates. In everyday life, that sometimes gets a bit lost, but nothing is more rewarding than exchanging ideas about thrilling science and discussing new questions together with young researchers. Of course, I have this exchange with all my PhD candidates, but because of the great flexibility that the MPSP program offers we can turn to topics that we couldn't easily work on before. Also, the distinction between a study phase and a research phase opens up the possibility of working with doctoral candidates at a very early stage of their academic career and binding them to the research groups early on. The many exchange possibilities offered within the MPSP guarantee an ideal environment with structured interaction.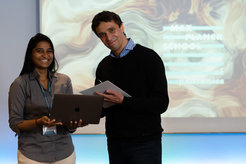 This goes for both my own discussions with the PhD candidates as well as the discussions between them. For example, I just came from an MPSP Spring School with a poster session. There, students presented their work and it was one of the most vibrant and stimulating poster sessions I have ever experienced. The session lasted about two hours, however, we could have scheduled a poster session on any day that week and the discussion would certainly have been consistently intense, as it was on that one day. The atmosphere there reminded me why I really wanted to go into science in the first place.
Beyond that, of course, the networking with the many other outstanding MPSP Fellows is something that excites me tremendously. In my group, we work theoretically and numerically, so we are always looking for connections to groups that work experimentally, with whom we can do joint research on specific topics. Of course, we also look for other theorists with whom we tackle questions that we cannot answer on our own.
It is a great benefit for our work to enter into a really easy and straightforward dialogue with photonics experts from all over Germany via this unique network of the Max Planck Schools.
KIT plays a central role as a key partner of the program. What does that mean in concrete terms? Where do you see synergies arising from this cross-organizational collaboration?
Being a key partner of the program means first of all that we are already actively involved in the training of our PhD candidates during the study phase. As one of the three teaching universities of the MPSP this includes, that the students currently participate in our local master's program, but they also benefit early on from being embedded in the Schools' network, which leads to many synergies. For example, they have access to cross-organizational digital teaching offered by all MPSP partners, and they can conduct research within the framework of this unique network. The past two years have also been a catalyst for the development of a joint curriculum across all partners: we have offered MPSP-wide lectures in the flipped classroom format, where the teaching is done via videos. These were created with the participation of many partners and were subsequently available to the whole MPSP community. Here we obviously use as a synergy that all supervisors have different expertise, which we can thus collectively bring to a single course.
We have also learned in the past years that we not only can and should require excellence from our PhD candidates, but that they can and should also expect excellence in their training and cooperation with us, quite rightly. With only university it is not always possible to fulfill the special interests and needs of each individual. Therefore, we are currently working on the establishment of a joint master's program with the other MPSP teaching universities, in order to make the most of the synergies between the various scientists and partner organizations. Within this new format, we also intend to involve all partners of the MPSP , and not only the key partners, so that we can ultimately build up a flagship program for photonics in Germany. The challenges involved are immense and the implementation of a joint master's degree will not be feasible on a timescale of one year, but in collaboration with the MPSP Fellows and with great support from the universities involved, I am very confident that we will succeed in doing so in the near future.
What distinguishes Karlsruhe as a research hub in particular with regard to the forward-looking field of photonics?
KIT has long-standing and strong ties with Carl ZEISS, one of the world's largest companies in the field of optics and photonics. In 2020, this cooperation was also structurally institutionalized in the ZEISS Innovation Hub @ KIT, an innovation building where research and industry meet and new ideas are fostered. But there are also close connections to other companies, such as Polytec or BOSCH, which have a high application focus in the fields of optics and photonics or use basic optical and photonic technologies in their products and production technologies. Karlsruhe also has a great history of inventing breakthrough technologies: For example, Heinrich Hertz's research during his tenure at what was then Karlsruhe Technical University, led to the discovery of electromagnetic waves. As is well known, the unit of frequency is called "Hertz" in his honor. Carl Benz studied in Karlsruhe and later developed a patent for a motor car, which is considered the first practical automobile in series production.
Physics Nobel Prize winner Ferdinand Braun invented the electron beam tube (Braun's tube) in this city. Otto Lehmann researched liquid crystals - the basis for our flat and energy-efficient displays today. These are just some of the many examples of successful research and innovation activities at KIT and its predecessor institutions.
In your view, why should international students and doctoral candidates come to KIT and Karlsruhe?
As "The Research University in the Helmholtz Association", KIT generates and imparts knowledge for society and the environment. Its goal is to make significant contributions to global challenges in the fields of energy, mobility, and information. To this end, about 9,600 employees work together on a broad disciplinary basis in natural sciences, engineering, economics, and humanities and social sciences. KIT offers research-oriented programs to its 23,300 students to prepare them for responsible tasks in society, industry, and science. KIT's innovation activities bridge the gap between knowledge and application for the benefit of communities, economic prosperity, and the preservation of our natural resources. Here, again, there are many interfaces to the mission of the Max Planck Schools.
KIT supports young scientists at all career stages, from doctoral and postdoctoral qualification to professorship. Ambitous young scientists find excellent conditions and career opportunities. KIT offers its doctoral candidates, junior research group leaders, and junior professors attractive prospects through a reliable career structure in a singular research environment. Many large German companies are located in the immediate vicinity of Karlsruhe: Siemens, Daimler, Polytec, Bosch, John Deere and ZEISS are less than 30 kilometers away, BASF, Porsche as well as another Daimler site can be found in the wider area. In addition, there is a vibrant start-up scene.
Moreover, you can quickly get from Karlsruhe to some of Germany's most beautiful natural areas, such as the Black Forest or the Palatinate. The city's central location also offers the best conditions for exploring Europe: It only takes two hours to travel to Paris by TGV, and the trip to Basel in Switzerland is even a bit shorter.
What is a must-see highlight when visiting the city?
Karlsruhe is all about the central baroque residence palace, which was built beginning in 1715: 32 streets radiate out from the palace into the city. Because of this fan-shaped layout, Karlsruhe is also called the "fan city." From the viewpoint in the castle tower, on a clear day, you can see all of Karlsruhe and even the Black Forest and the Palatinate Mountains.
Just a few steps away from the castle is the Federal Constitutional Court, the highest court in Germany. Also in Karlsruhe is the Federal Court of Justice, the final instance in civil and criminal cases. Karlsruhe also has much to offer in terms of the arts: The Center for Art and Media, ZKM for short, is one of the largest and most important museums for media art in the world and is one of the reasons why Karlsruhe was included in the Creative Cities Network by UNESCO as a "City of Media Art."