Three women, three questions
The new decision-makers in the steering committee of the Max Planck Schools
Additions to the Max Planck Schools Steering Committee: At the end of last year, three new members joined the strategic decision-making committee of the Max Planck Schools. Based on three short questions, we would like to not only briefly introduce the three scientists, but also convey the importance of such a decision-making body - consisting of representatives from the partner institutions involved in the Schools - for our cross-organizational program. 
Committee: A term that sounds like a rather dreary meeting with a full agenda. However, it is exactly such committees that play a decisive role, e.g. by making strategic decisions for longterm and further development of individual organizations, programs and initiatives - as is the case for the steering committee of the Max Planck Schools. Since the start of the pilot phase of the Max Planck Schools in 2018, this committee meets twice a year and often has to make decisions on short notice in order to be able to react to the constantly changing conditions in the pilot project - almost like in a start-up.
The steering committee is thus the most important strategic decision-making body of the Max Planck Schools. It consists of representatives from the 24 partner universities and the four major non-university research institutions involved in the program. Following the departure of three members, the steering committee welcomed three new representatives at the end of 2022: Anita Schöbel, Director at the Fraunhofer Institute for Industrial Mathematics, Anja Steinbeck, Rector of the Heinrich-Heine-Universität Düsseldorf, and Ulrike Cress, Director at the Leibniz-Institut für Wissensmedien. Representing their respective organizations, they work together with the other members to further advance the interests of the Max Planck Schools, contributing their expertise and multi-faceted experience.
In the spirit of "Three Women, Three Questions", we want to take the opportunity to get to know the new members better.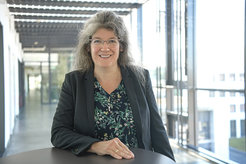 Anita Schöbel: Prof. Schöbel, you are professor of applied mathematics at the Technical University of Kaiserslautern, were a professor at the Institute for Numerical and Applied Mathematics at the University of Göttingen, and have been director of the Fraunhofer Institute for Industrial Mathematics since 2019. What can you profitably bring from your work at universities to your work at a non-university research institution?
This is above all the interaction with scientists, with enthusiastic people who are committed to research in the university or non-university sector. Together, you develop new ideas about what you want to work on and with what methods, organize conferences and workshops, write proposals, and rejoice over the results achieved. In addition, the quick grasp and structuring of contexts that I learned while working with mathematics helps. Giving talks and presenting results is always important, at universities and in non-university research.
Every fall, new PhD candidates start at the three Max Planck Schools. Often, they have to overcome various hurdles or even setbacks during this time. What was your biggest challenge in the PhD and how did you deal with it?
In my case, it was my two children. I started my doctoral thesis in 1994, and my husband and I got married almost at the same time. A year later our daughter was born, 20 months later our son. Immediately after maternity leave, I returned to the university after having the children - with a half-time job. In the mornings I was mostly at the university, in the afternoons I was out with the children. But there were many exceptions, e.g. for seminars. The organization of supervision was not always easy and a half position, which also includes work in teaching, is of course not enough time for a PhD - which means that I often continued to work in the evenings. Once I had a crucial idea during one of my walks with a stroller. It was a fulfilling time that I have fond memories of, and thanks to the support of my husband and my supervisor, everything worked out: in 1998 (the children were one and three years old by then) I was able to hold my PhD certificate in my hand.
You have studied mathematics and economics as a minor subject. These are actually ideal prerequisites for pursuing a career in industry or the private sector. What ultimately persuaded you to stay in science?
The answer is simple: my enthusiasm for mathematics! I have always enjoyed giving lectures, gaining new insights, fiddling with questions until you have a result on the table, and it still drives me today. I am a big fan of application-oriented research. Even in the past, I was happy when people were able to use what I had found out. For example, in my diploma thesis, in which I developed a new model for fare planning in public transport, which was then actually used. During my time at the University of Göttingen, I was more concerned with theoretical issues, e.g. robust optimization, but never lost sight of the applications. As the head of the Fraunhofer ITWM, my focus is on the research transfer of theoretical results to industry. Here, I am excited every day to see where mathematics can improve our daily lives: Health, energy, production, vehicles, finance, materials - mathematics is so versatile!
Anja Steinbeck: Prof. Steinbeck, you have been President of the Heinrich-Heine-Universität Düsseldorf - one of the nine key partner universities of the Max Planck Schools - since 2014. You were a part-time judge at the Higher Regional Court of Cologne, have been spokesperson for the member group of universities in the German Rectors' Conference (HRK) since 2020, and were named "University Manager of the Year" that same year. Did you have role models or even mentors who inspired you on your career path?
Yes, in my different phases of life, there were various people who had a decisive influence on my professional development. First and foremost, my PhD supervisor, who approached me with the idea of staying at the university. He first had to explain to me what that meant: writing a habilitation thesis, writing papers, giving lectures and then, in any case, changing location, since internal appointments were a "no-go" at that time. During the habilitation period, the only female law professor was a role model for me. She had three children and that showed me: it can be done. But in the years that followed, I was also very impressed by a wide variety of people.
You have a doctorate in law and did research on the subject of fair trading, trademark and copyright law. What sparked your interest in science back then?
During my legal clerkship and also during my post-doc phase I worked for a lawyer who was a luminary in these fields of law. His personality as well as the liveliness of the cases to be decided, aroused my interest and enthusiasm. In this report I was later also active as a judge.
When was the last time you did something for the first time and how did that experience affect you?
Just before the Corona pandemic, I skied a 4000-meter peak for the first time (supposedly the easiest 4000-meter peak there is). It didn't change my life, but afterwards I thought: I should have done that much earlier. In my next life, I'll be the rector of a university in the mountains.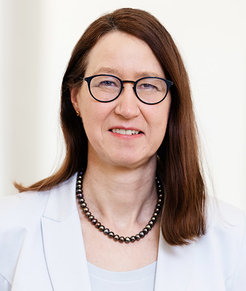 Ulrike Cress: Prof. Cress, you are Director at the Leibniz Institute for Knowledge Media (IWM) in Tübingen, professor in the Department of Psychology at the university there, and amongst other, Deputy Chairwoman of the Board of the Deutsche Telekom Foundation, and soon also a member of the steering committee of the Max Planck Schools. But then science also needs its freedom. Nevertheless, your day only has 24 hours - what do you do in your free time to find some peace and quiet?
In fact, it's not that easy. I try to go swimming regularly. In my home town in Stuttgart Bad Cannstatt there is a wonderful mineral bath, with naturally cool water. That requires a bit of an effort, especially in winter. But it also lets you quickly forget all the stresses of everyday life and is a very excellent change from the daily research routine!
The Max Planck Schools are a joint graduate program for scientists in the early stages of their careers. What advice do you give young researchers to help them find their own path or even their own research topic?
Work in a creative, successful research team. This gives the basis for your own good research! A topic on which you work all alone is overwhelming and frustrating.
What (non-scientific) topic could you give a 30-minute presentation on, without any preparation?
I usually don't find lectures without preparation very refreshing. That's why I would rather be wary of giving one!