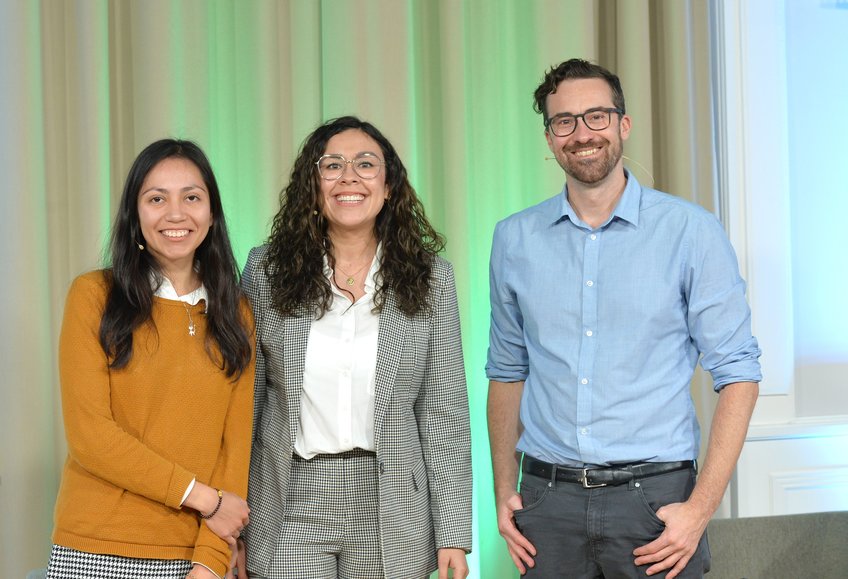 Student Insights: Talking Science on the Big Stage
Interview with PhD candidates Emma Celina Brambila Tamayo (Max Planck Schools of Photonics), Brianda Lopez-Santini (Max Planck Schools Matter to Life) and Caedyn Stinson (Max Planck School of Cognition
Emma, Brianda, and Caedyn each presented their PhD projects at the last Max Planck Schools Day in October 2021 at the Harnack-Haus in Berlin. Today we got chance to talk about how it was for them to stand in front of the camera presenting their research to almost 150 people during the virtual event, and how this experience influenced their further work.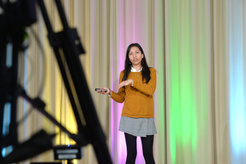 It's been a few months since the Max Planck Schools Day. Looking back, what were your experiences being on-site at Harnack Haus in Berlin and how did you perceive the event from your perspective, Emma?
I have very fond memories of last year's Max Planck Schools Day. Even though it was a rather short event, I really appreciated the interaction with the other participants on site. I had the pleasure of sitting with some of the panelists during the joint lunch, and it was very interesting to talk with them about various topics, as everyone's field of expertise was very different. Beyond that, it was very nice to get feedback from the audience who were following the event online. For me personally, the Max Planck Schools Day is a great opportunity to bring the three Schools together and to interact with interdisciplinary experts. Learning about their work and their personal professional experiences gives us a broader overview of the current state of science in Germany.
Brianda, you, Emma and Caedyn presented your PhD projects to the virtual audience of the Max Planck Schools Day. Could you tell us a bit about your presentation, what was it about? How did you feel standing on the "big stage" talking about your research in front of the camera?
It was an exciting experience to have the opportunity to talk about my research and represent my School! My presentation was about using computer simulations to study the structure, function, and movement of biomolecules for drug development.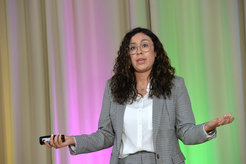 It was a big challenge to talk about such a specific topic in front of an audience with different professional backgrounds. However, the Schools helped us a lot in our preparation, and I am a challenge enthusiast after all.
The stage was indeed big, both figuratively and literally. On the one hand, it was a great platform to speak to a large audience about what excites me in science. I wasn't aware of the outreach it would have until after, when I started getting messages from people wanting to know more about my research or telling me they felt inspired by our energy. That meant a lot to me!
And on the literal side, the stage was very high, with a professional camera production team and big speeches given before us, which made the experience extra intimidating. But at the same time, the event was organized in such a way that there was a welcoming atmosphere. So, when I finally walked out on that stage, I also stepped out of my comfort zone, but my fears immediately disappeared because I was simply talking about my passion for science.
Caedyn, you talked about the aspects of social sognition. If you were to explain your PhD project in one sentence, what is it about?
In a sentence, my PhD is looking into what pieces of information we draw from our memory to form our opinions.
How did it feel to give the audience detailed insights into your work after a year of chatting through screens or working at home?
It was a pretty surreal experience, because the talk was even less interactive than a Zoom call, since I couldn't see most of the audience. But it was nice to talk about my project with those who were there live. I also got to talk to Brianda and Emma beforehand and learn about their work, which made the whole experience feel a little bit like what life used to be pre-pandemic.
In preparation for your talks, you got advice from a professional coach focused on presentation training. Caedyn, could you give us some insight into what you learned in those coaching sessions. Any advice to those who struggle in such situations?
We were really lucky to have a professional coach guiding us through our presentations. The funny thing looking back on it is, no individual thing the coach taught us was particularly revolutionary – like, we all know that our talk should be engaging, and the content should be driven by what we want to communicate. But what really helped me, and it's something I'll use going forward, is his process.
I think as academics we are really good at shooting down our own ideas. We all know there are things we would like to do better in our talks, but personally I know I procrastinate with half-baked creative ideas, then usually end up playing it safe. But the coach created space to be creative up front, and brainstorm ideas.
He also gave us a framework to work within which made it easy to focus and remember the key goals of our talk. It broke it down to manageable pieces and made the whole thing much less daunting. And then ultimately, it was just really good to have someone to bounce our ideas off, and give feedback on our talks.

For anyone who struggles with public speaking, I guess the biggest thing I could say is – pretty much everyone struggles with it, and everyone gets nervous! But I think it is important to remember that we drastically overestimate how much others notice us. Your worst case scenario, complete meltdown of a talk, probably barely registers with your audience. So the worst case scenario is usually that you were boring and instantly forgotten. There is no disaster waiting for you. And on the flip side, if you can focus on a few points you want to communicate, and how you can best communicate them – your audience will take something away they previously did not know. It is a cliché to start your talk with "Thank you for this opportunity", but that is probably the best way to view it – a chance to teach something, with no real negatives if you bomb!
I suspect that for you all, this year marks the beginning of the second and particularly intense phase of the program. Emma, were you able to take anything away from the experience of speaking at the Max Planck Schools Day, and the associated coaching sessions, that could prepare you for the time ahead?
Personally, I found the preparation for the presentation incredibly useful. Unfortunately, presentations are not one of my strengths, so I am very interested in practicing and improving these soft skills for my future professional development. For me, the coaching sessions were very interesting because they were very different from a normal workshop on oral presentations. really enjoyed the time with the coach because I was able to focus on specific solutions on how to present my personal topic in a more attention-drawing style Also the professionalism and all the equipment during the event, such as the camera and audio setups, was a nice experience for me as a scientist who usually works isolated in the lab. Finally, I would really like to encourage my colleagues from the Schools to actively participate in this event. Presenting your work to a wide audience has a positive effect on you, as you express your ideas in a structured and compact way..
Speaking of the final and crucial PhD phase, Brianda, looking back, how have you felt about your time at the Schools so far? Is there anything in particular that you might like to share with someone who is interested in applying to the program?
I am really happy with my decision to join the Max Planck Schools. The research is excellent, innovative, and exciting. The scientific exchange is rich in multidisciplinarity because we have people from many different research fields – it is unbeatable! The program itself is very new, which means it is in a gripping phase of constant evolution and improvement. Being part of all of this has been an enriching experience.
The most important thing for me has been that there are people here who care about our ideas and opinions. So I would tell someone who is applying to let go of any insecurities about their prior knowledge and background; this is a great place to come and learn and fulfill your potential. You will meet a fantastic community of diverse, brilliant individuals that are both somehow very culturally different from you but also possess lots of similarities, who will expand your learning experience far beyond the technical and scientific side. And your voice will be heard, even on big stages!
Elisabeth Jostock asked questions on behalf of the Max Planck Schools Central Coordination Team.