MPSP Coffee Breaks + Q&A
Your Direct Connection to our Fellows
Are you considering applying to the Max Planck School of Photonics, but you don't know which research field you find most exciting or do you still have questions about the application process? Are you already a student at the MPSP and would like to exchange ideas with the fellows on their research? Then you have come to the right place with our virtual Coffee Breaks! Here you can network directly with each other and with our fellows. Just register for free!
Please note: Every virtual Coffee Break will also include a Q&A session on the application process with one of our scientific coordinators from the MPSP team. So if you have general questions, just register here.
Are you unsure about the time zone? Just convert it here: https://www.worldtimebuddy.com/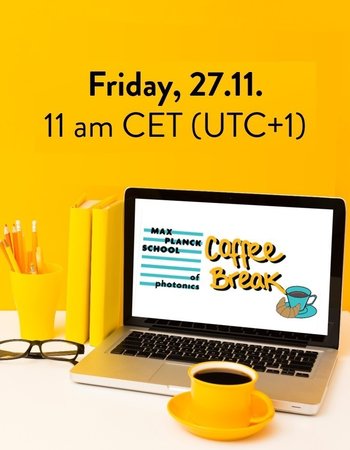 When: 27.11.2020 | 11 a.m. CET (UTC+1)
Final Questions for Submitting your Application
Register here
This Q&A session is explicitly aimed at applicants. You can ask our scientific coordinator Reinhard your final questions about your application and the application portal.